It will come as no surprise that over the last few months, the local housing market has been changing! While the Cayman market is still a seller's market, primarily due to low inventory, it is no longer the ultra-buoyant market we experienced from 2020 – 2022, homes that are priced right are the homes that are selling, and they get the most attention from buyers right now. If you're thinking of listing your home between now and this summer, it's important to lean on your CIREBA licensed real estate agent when it comes to setting a list price.
Move-in-ready, well-maintained homes in desirable areas—that are priced to sell—are especially likely to sell more quickly in today's market. When you consider that the average days on market of a CIREBA listed, existing, residential property that sold in the year 2022 was 207 days, it illustrates that even in our boom years, our market is not a particularly fast moving one!
Why Pricing Your Home Right Matters
First of all, and most obviously, nobody wants to leave money on the table! Beyond that, psychologically, if it's priced unreasonably low relative to comparable homes, buyers may wonder if that means something is wrong with the home.
If you price too high, buyers are deterred, leading to additional, unnecessary, days on the market. When that happens, you may have to lower the price to drive interest, and while there's nothing inherently wrong with doing so, you may have lost some time. In addition, some worry that a price reduction signals weakness to the market, we tend to believe that a professional CIREBA licensed real estate agent can talk through a price reduction, should it be necessary, but if you can avoid it by pricing right in the sweet spot at the outset, you'll never have to worry about it.
To avoid either headache, price it right from the start! A 1503 Property Group, CIREBA licensed real estate professional knows how to determine the ideal asking price. By balancing the value of comparable homes in your area, current buyer demand and market trends, the condition and curb appeal of your home, and more they will find the right price, leading to stronger offers and less time on the market.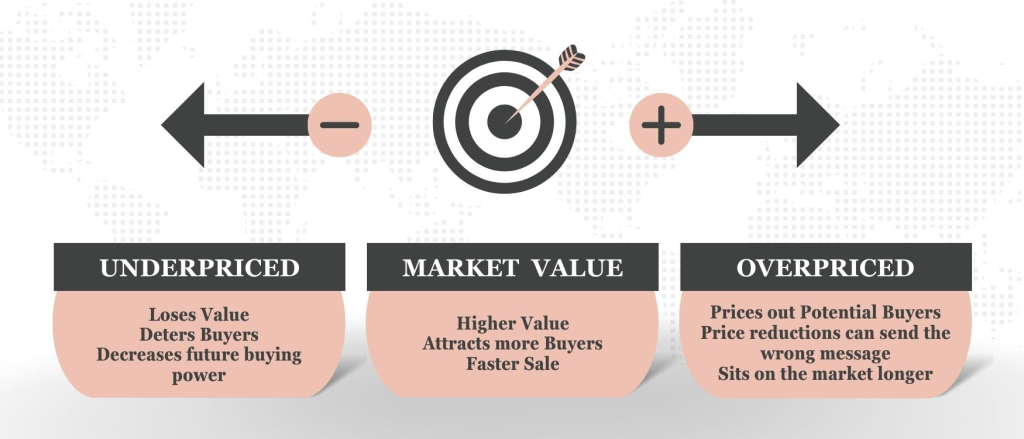 Bottom Line:
In this market, PRICE MATTERS. Homes priced at the current market value are selling faster, at a better price, and with less hassle. To make sure you price your house correctly, maximize your sales potential, and minimize your hassle and time on the market, reach out to a trusted CIREBA licensed real estate professional, at 1503 Property Group, international affiliates of Forbes Global Properties and Savills, we would LOVE to be your trusted real estate professional. Call today us at 345-526-1503!